LAvish florist | apology flower
say sorry
APOLOGY BOUQUETS
Choosing Apology Bouquets: Good Choices for Apologizing to an Angry Girlfriend
In romantic relationships, it's inevitable to make mistakes or unintentionally upset your partner. When your girlfriend is angry, presenting an apology bouquet can be a lovely way to express sincere apologies and a desire to rebuild the relationship.
However, selecting the right bouquet and delivering it in the appropriate manner is crucial. In this article, we will share some tips on choosing apology bouquets and good options to help you apologise to your upset girlfriend and regain happiness and forgiveness.
The Importance and Meaning of Apology Bouquets
Apology bouquets are a unique way to convey remorse and affection. Bouquets represent beauty, warmth, and care, allowing unspoken sentiments to be expressed. When you unintentionally upset your girlfriend, a thoughtfully chosen bouquet can demonstrate your sincerity and value for her.
The color and selection of flowers in the bouquet can also convey specific messages; for example, red roses symbolize love and passion, while white lilies represent purity and honesty. Choosing a bouquet that suits her taste and preferences will effectively convey your apologies and repentance.
Tips for Choosing Apology Bouquets
When selecting an apology bouquet, consider your girlfriend's preferences and personal taste. If you're unsure about her favourite orite flowers or colours, you can start with classic choices like roses or lilies. These flowers are commonly associated with love and apologies, carrying rich symbolic meaning.
Additionally, you can consider her favourite rite flowers or any flowers she has mentioned liking before. Such thoughtfulness and attention will make her feel your earnestness and importance to you.
Good Choices for Apology Bouquets
Here are several Lavish's good choices for apology bouquets that you can select based on your girlfriend's preferences and the occasion:
Lavish Florist's recommendation no.1
Athena - White Rose Bouquet
White bouquet represents purity, sincerity, and earnestness. White roses are a common choice as they convey heartfelt apologies and respect towards the recipient. Accompanied by some small white flowers like white carnations or white lilies, they enhance the sense of purity in the bouquet.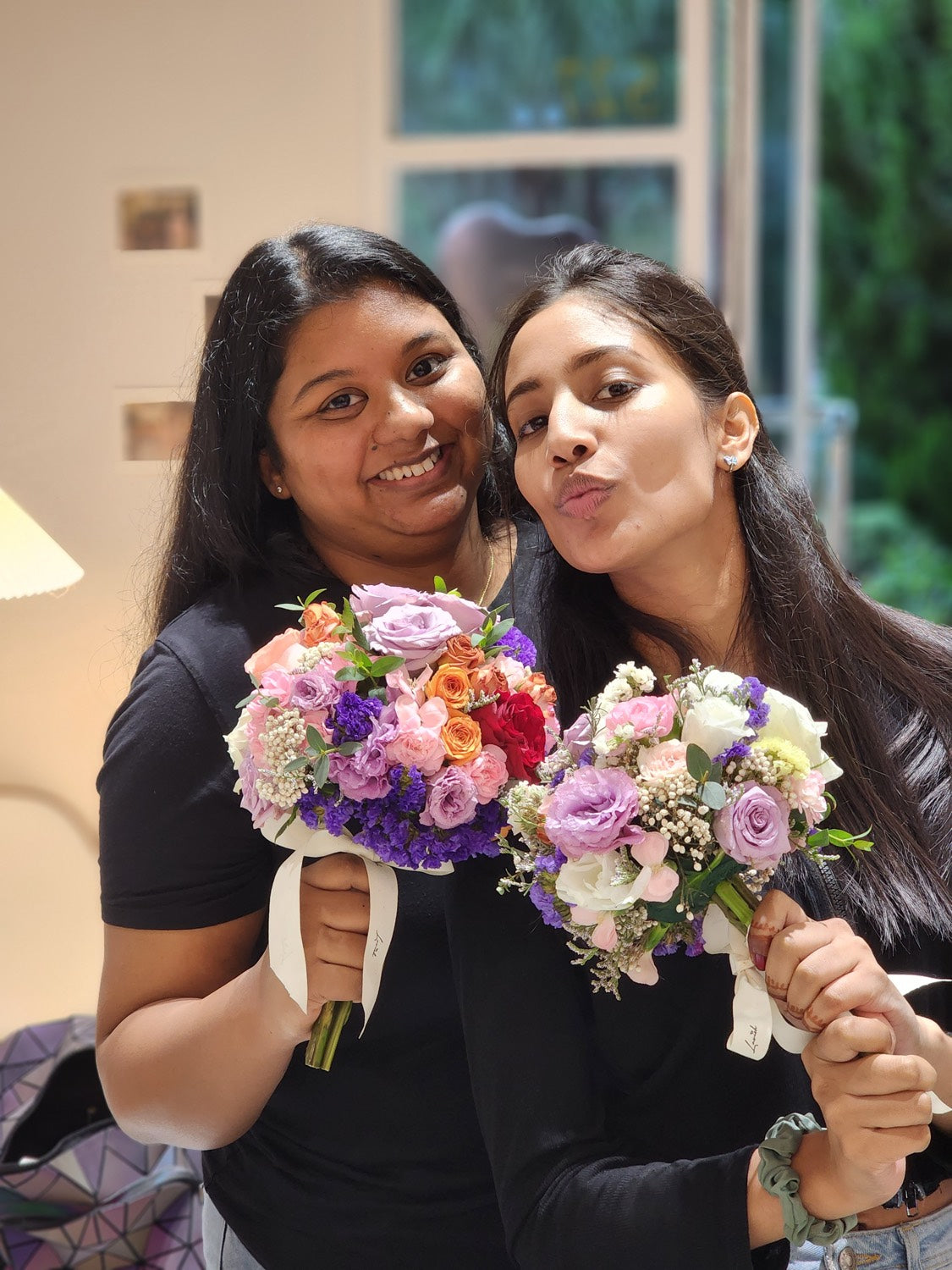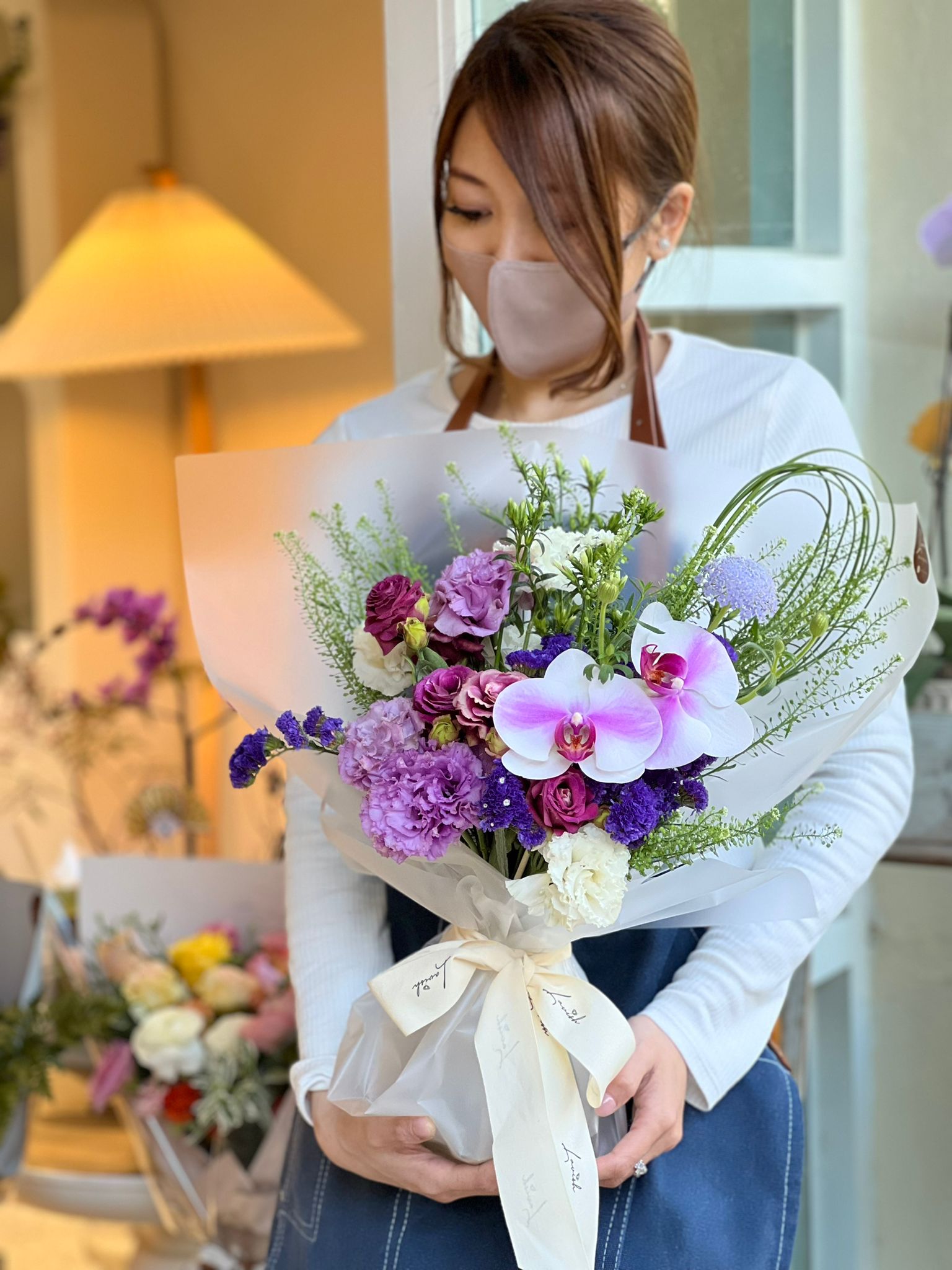 Lavish Florist's recommendation no.2
Violet Lila - Orchid Bouquet
A BLUE or PURPLE bouquet represents peace, tolerance, and understanding. Blue hyacinths, violets, or purple cornflowers are all excellent choices as they convey your desire to reconcile and mend relationships with the recipient.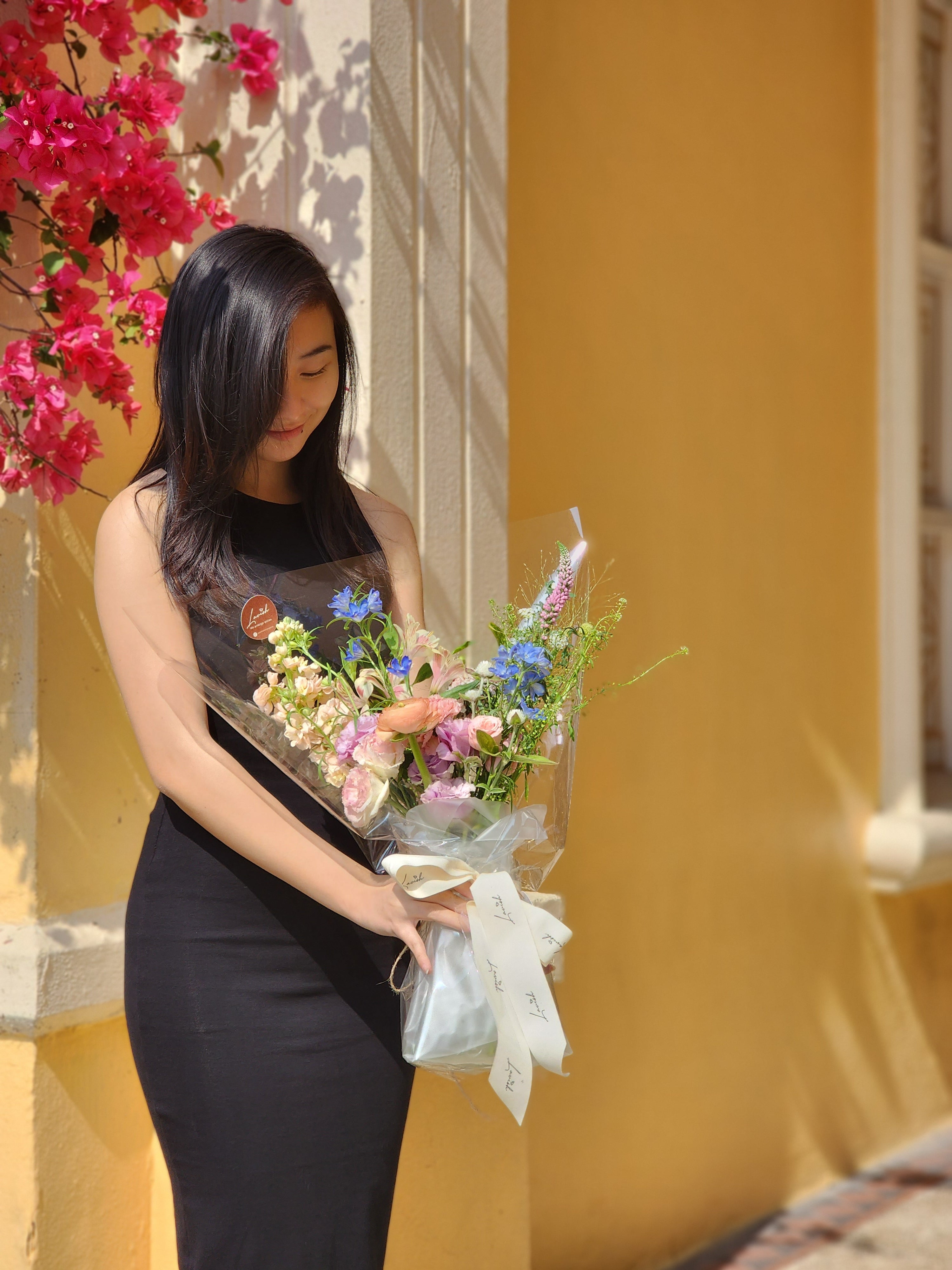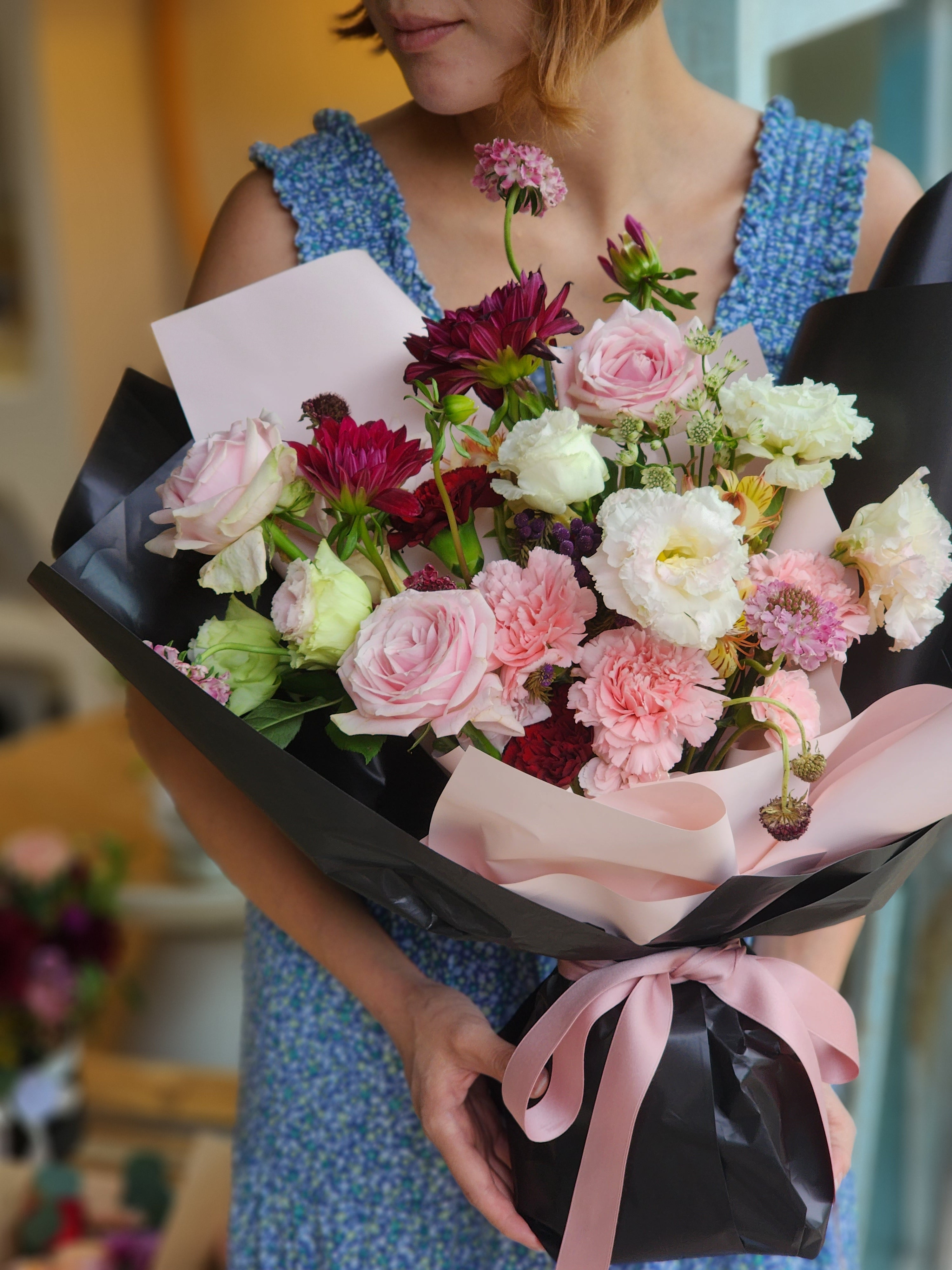 Lavish Florist's recommendation no.3
BlackPink - Rose Carnation Bouquet
Mixing various flowers together showcases a range of emotions and meanings, expressing your sincere apologies to the recipient. You can choose to combine some red or pink roses, symbolizing love and care, with some white or light-colored flowers, symbolizing sincerity and respect.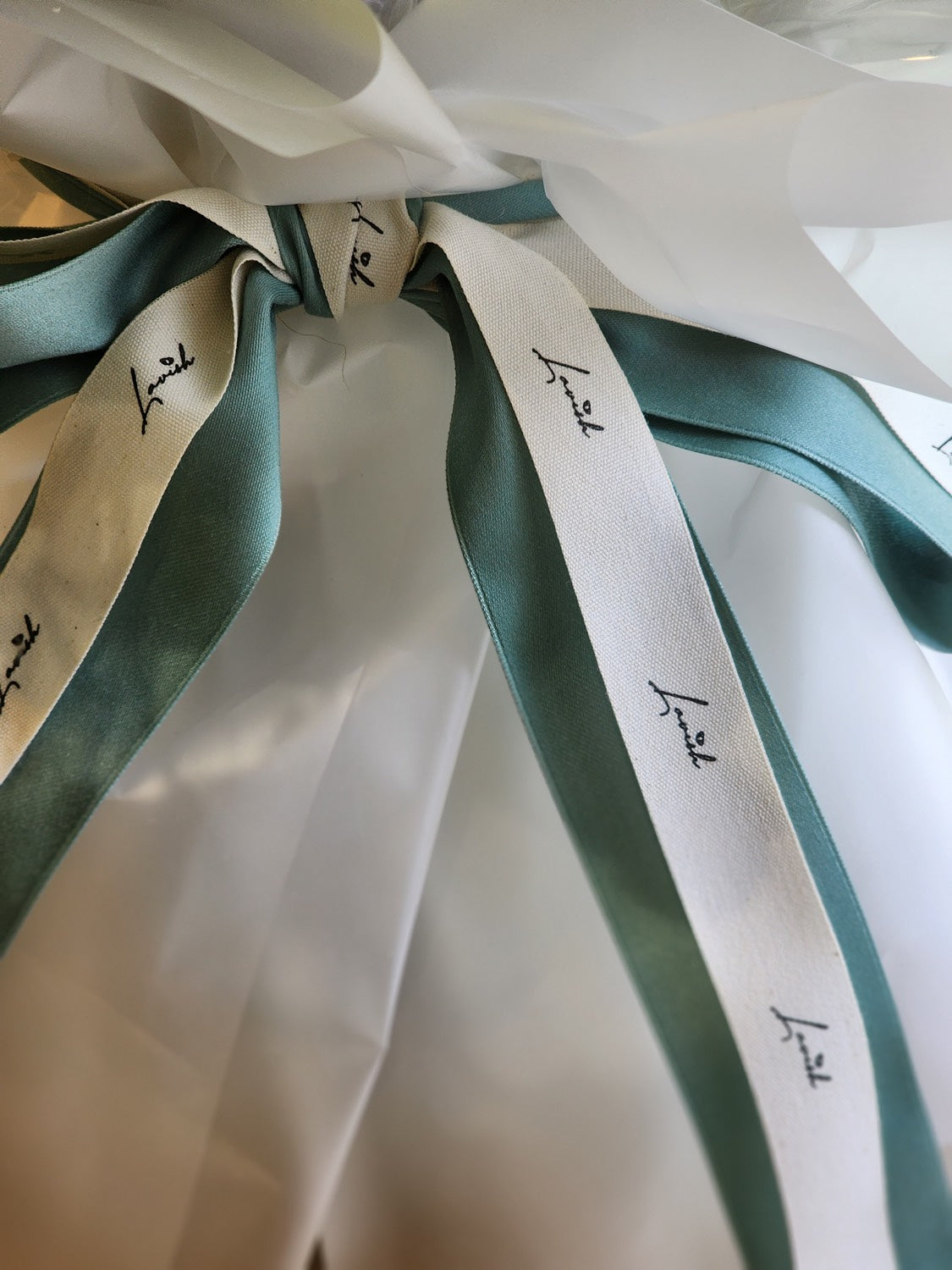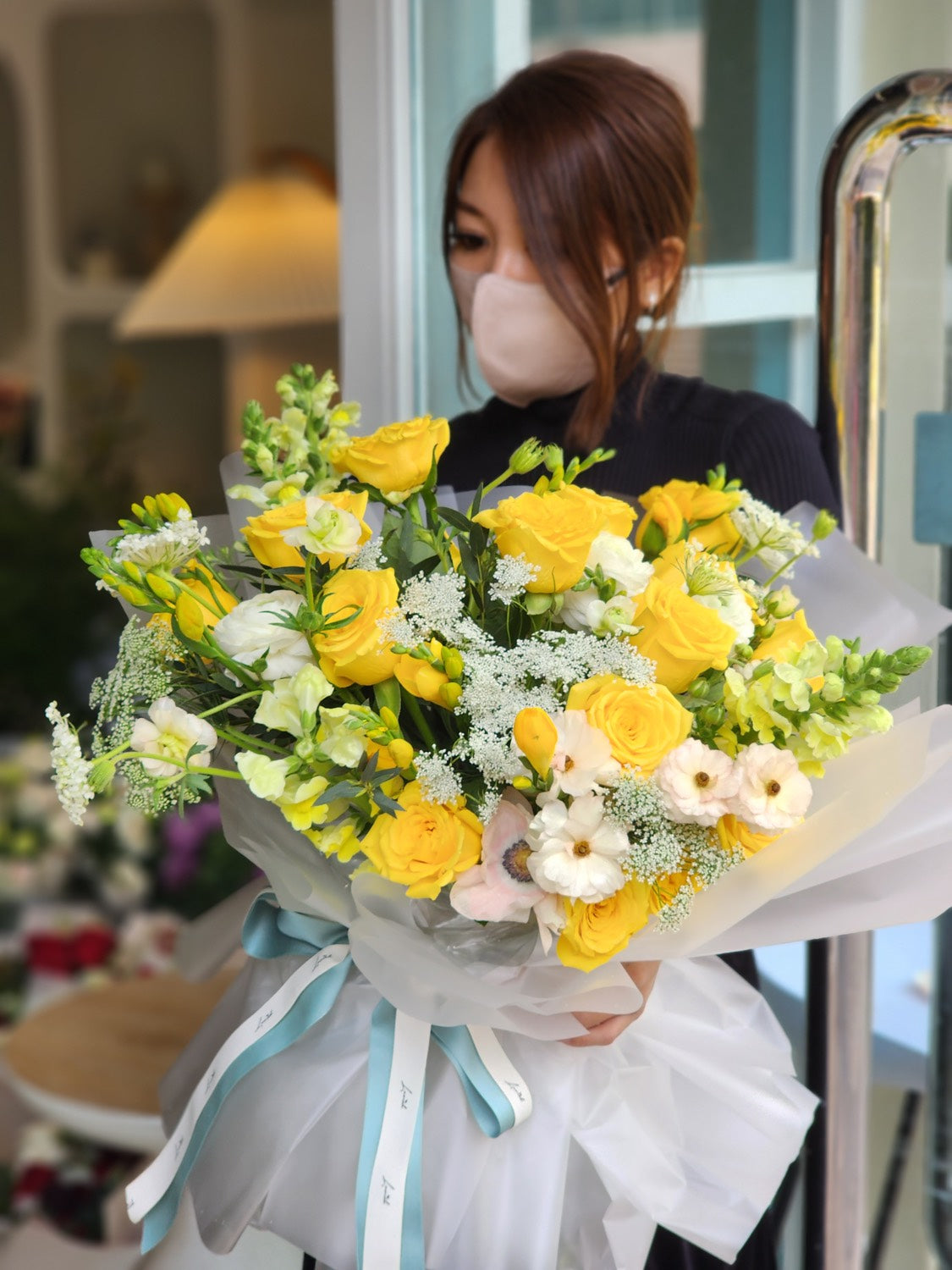 Lavish Florist's recommendation no.4
Valencia - Yellow Rose Bouquet
Yellow roses represent an expression of apology, especially when the recipient is one's wife or girlfriend and there is anger involved. Pairing yellow roses with an apology conveys even greater sincerity.

Some cultures or contexts, yellow roses can also symbolize friendship or joy, so it's important to consider the cultural and personal significance of flower colors when conveying specific messages.
Conclusion
Apology bouquets are a wonderful way to express remorse and rebuild relationships. By choosing the right bouquet and delivering it in an appropriate manner, you can convey your sincerity and value for her.
Remember to consider her preferences and personal taste while selecting a bouquet that expresses your emotions and apologies.
Additionally, include a heartfelt apology letter and deliver the bouquet with love. After gift-giving, engage in a conversation to discuss and reconcile, aiming to rebuild the relationship. Wishing you success in the process of apologizing and regaining happiness and forgiveness with your girlfriend.
LAVISH FLORIST delivery policy
1. Order Completion Time: All orders must be placed and paid for at least 2 days in advance.


2. Basic Delivery Time: Monday to Sunday, from 12:00 PM to 7:00 PM.


3. Free Delivery Promotion: Free delivery is available for orders totaling HKD 799 or above. (Excluding remote areas, which require separate quotation).


4. Same-Day Orders: Same-day orders require prior confirmation of product availability and are subject to an additional delivery fee of HKD 100 per order.


5. Order Cut-Off Time: Orders placed online after 5:00 PM will be processed as next-day orders. Next-day orders will be treated as same-day orders.


6. Weekly Flower Delivery: Weekly flower delivery is scheduled for every Friday of the month, and the delivery fee is waived. (Excluding remote areas, which require separate quotation).


7. Specific Time Orders: If you wish to specify a particular delivery time (e.g., 2:00 PM), an additional delivery fee of HKD 140 will apply.


8. Return Policy: Once an order is placed and payment is completed, it cannot be canceled or refunded unless the flowers are found to be damaged during transportation. In such cases, please inform our delivery driver, take photos, and contact us via WhatsApp. We will arrange for a partial or full refund accordingly.

Note: The translation is provided to the best of my abilities and may not be an exact representation of the original text.
You are welcome to place your order anytime on our website or visit us
Apology Flower | Lavish florist